These Hexagrams always speak for themselves and the message from the TAO today addresses the current goings on in our present crises with health, politics and separation. This is especially apparent under the influence of the Saturn (order and structure) – Pluto (transformational power) combination which represents chaotic challenges of deep, fundamental change to existing systems. This is likely to impose some kind of restriction on our freedom of movement or upon our resources. ~ Robert Hand
The message in our HEXAGRAM is clear, follow the protocol that we have been given by our courageous health leaders and community. Yet, the greater message here is how we can be of benefit to others. If you are not compromised: Do you have elderly neighbours who might benefit from you shopping for essentials for them or making sure that a neighbor or someone who is living alone is well? How about a stressed out mum, who now has the kids home from school and needs a break to just take a shower or a walk to regain her sanity. Or Mums, whose kids have already played together at pre-school – kindergarten – K-12 coming together in small groups of support on line or otherwise. How about being proactive and creating a class online, as my Sheng Zhen group did here in SB, to support each other by promoting healthy exercise, augmenting our chi and coming together in community.
And lets not forget laughter, my friends from around the world are sending me silly and sometimes ridiculous videos and photos but they make me laugh and we all know from past studies that laughter is the best medicine. Last but not least, I believe this is the most important part of the first HEXAGRAM, is your personal self-cultivation, be it mediation, journaling, chanting, etc. as that will not only still the fear and anxiety prevalent in the field but will have an effect on those around you. I am sure that there are many ways we can support each other during this time of self-isolation. Do you have some original ones?
In the second HEXAGRAM 20, I just love how the Sage speaks directly to our current hand washing protocol. What better way than turning the washing of hands into something sacred, a ceremony, taking a breath, focusing in the present moment as bringing Mindfulness and Joy into this new ritual. BTW, my age group was brought up with these healthy everyday routines as a part of life – somewhere along the line of this digital age where we literally touch everything we have forgotten how important this practice is.  
Though, the main message is again self-contemplation, and how perfect to take time in our forced self-isolation to do some major introspection. Looking deeply into what our lives here on the planet actually are meant for and how we are connected to each other, to Gaia, to chi, to the Universal Life Force. Perhaps as this time brings people together in other ways than face to face, we can contemplate and finally come up with a plan to take better care of our home, the EARTH, and all of her inhabitants with loving kindness and care. Be well my friends.
HEX 59: HUAN/DISPERSION
WIND IS ABOVE WATER. Wind belongs to Spring. Wind blowing in all directions causes it to spread in all directions.
UPPER TRIGRAM: SUN/WOOD – symbolizes a boat, which, with the help of the WIND can pass over difficult WATERS. Thus, now is a suitable time to go far away or communicate with people who are at a distance.
If one is guided by clarity and calm, one can successfully avert or correct problems and handle the aftermath of DISPERSION. There may be some worry over losses, so one should be careful. For the most part this HEXAGRAM has a positive outcome.
For example, when ominous clouds gather and create stormy conditions, the WIND comes and blows them away. This is how DISPERSION can break up congestion.
DISPERSION is especially valuable in SELF-CULTIVATION. When one is strongly influenced by desire, ambition or misunderstanding, one must remove the obstruction or there can be no real progress. Once the "frozen ice" is dissolved, joy can be restored.
LINE 2: "He quickly goes to the rescue. Remorse disappears."
(An incorrect position as it is YANG in a YIN place) Thus, the surrounding YIN lines hinder is moving YANG energy, like a wild horse trapped within a ravine..
The second LINE is unable to help itself; it gathers its energy and helps the first LINE, which is in even greater trouble. Even though one has much strength, it will go to waste if not used to benefit others.
From the COMMENTARY:
DISPERSION occurs when human intelligence exceeds spiritual capability, when a person or a society is unable to function as a whole. Intellectual divergence arises from the different capabilities people have for understanding and knowing things. Arguments and wars breed in the warm bed of DIVERGENCE.
Real peace cannot be achieved until the full capability of knowing is achieved by both the individual and the human race. Meanwhile, tolerance must be cultivated when dealing with differences.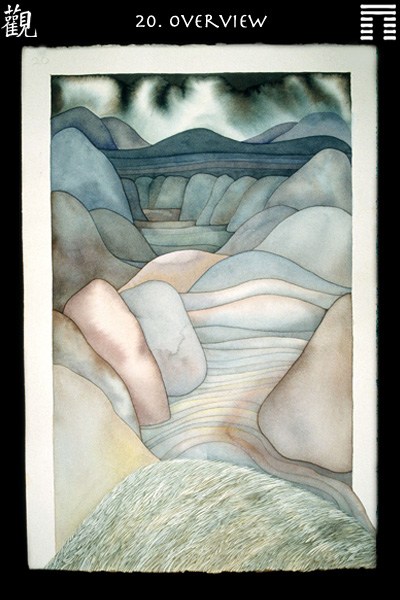 Changes to:
HEXAGRAM 20: KUAN/POINT OF VIEW
WIND is above EARTH. Just as a penetrating WIND pervades everywhere, a good way of life and good teachings influence everyone they touch.
The image of KUAN suggests a physical structure of an altar or temple
GUIDANCE: "Contemplation. After washing the hands and beginning the ceremony, with deep sincerity the officiant centres the mind. The hearts and minds of all participants are drawn to this good example. Likewise, the way of the highly evolved inspires people to revere the divine order of the Universe."
The two YANG lines at the top of the hexagram represent models of virtue in times when negative forces are pushing forward. …The greater significance of KUAN represents a way of life that is cultivated and guided by constant self-contemplation. Through such introspection, one remains unaffected by the pressures of worldly life and stays attuned to the deepest level of nature, which is the origin of the universal life force. By following worldly trends, one becomes lost in the temptations of the superficial…the hexagram is also concerned with one's overall view of life, which may be determined by how broad and encompassing one's understanding is. Even if one has traveled in many countries and lived among many different people, one's view may still be very narrow.
Today I have used the reference of Hua-Ching Ni a true master, author, teacher and physician who comes from a long lineage of highly achieved Chinese masters.
These amazing images are from Joan Larimore – IChing Artist and are for sale
https://cinnabarb.com/wp-content/uploads/2020/03/HEX59-Dispersing-Larimore_59-e1584324899330.jpg
300
200
Bernadette Macmillan
https://cinnabarb.com/wp-content/uploads/2015/06/logo2.png
Bernadette Macmillan
2020-03-16 03:01:10
2020-03-16 03:05:34
DDD – DIVINATION DE DIMANCHE (SUNDAY DIVINATIONS)