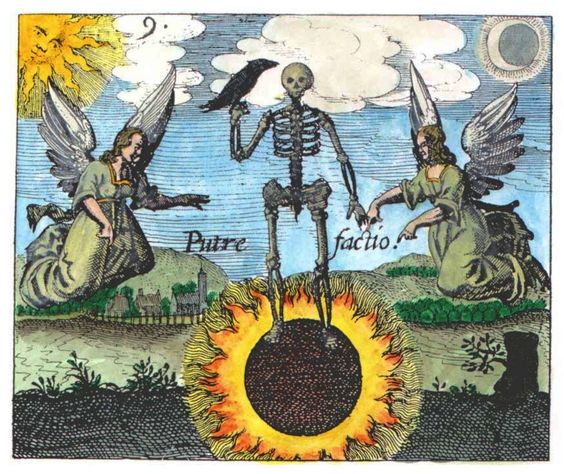 In alchemy, nigredo, or blackness, means putrefaction or decomposition. Many alchemists believed that as a first step in the pathway to the philosopher's stone, all alchemical ingredients had to be cleansed and cooked extensively to a uniform black matter. ~ Wikipedia
As we entered the Scorpionic waters of the season and continue our descent into the darkness of winter, transformation is upon us especially with Venus, Goddess of Love & Relationship being retrograde here. No superficiality allowed, we are delving deep into past connections, ancestral, sexual and relational, releasing and dissolving old outworn imbalances and patterns of intimacy and dysfunction that no longer work. Within the blackness of alchemy, think of rich, deep dark soil which has been turned, digested and when composted and cooked eventually nourishes  new life, new growth, once we return to the light.
In archetypal terms many of us know the tale, as Venus's retrograde of 40 days symbolizes young Persephone, Goddess of Spring, in her descent, being tested, having suffered and been stripped naked. Reflect on other tests of 40 days and nights and you'll get an idea, tales of Inanna, the Buddha and biblical ones for example. She is also in tension with Mars, the God of war and conflict. He represents for me two connections here, her father, Zeus, giving her away to her brother, Hades, God of the Underworld, in marriage without consulting either her or her mother and thus the disaster begins or perhaps it was her choice? Eventually, she passes all tests with marvelous assistance (you will have to look up the rest of the story), and becomes Goddess & Queen of the Underworld with a price after having partaken of the deep, red pomegranate, another symbol of this Scorpio time frame. Her price was having to descend for half of the year into the domain of her husband/brother Hades, our Winter season, and then she emerges in her strength as an actualized, empowered woman, reuniting with her mother, Ceres, Goddess of Agriculture in the Spring.
Here all things of a Venusian nature are touched; secrets come to the surface – ancestral, sexual, intimate, aesthetic and financial as well as personal values – things we didn't want to deal with come out of the blue but really from the deep nigredo black (don't even talk about the news, just notice the correlations).
In astrology, this fourth quarter of the year is full of movement with two major slow planets changing signs, Uranus, the "Awakener," catalyst and wildcard, with Jupiter, King of the Gods, God of Light, expansion, sky and weather – think "thunderbolt," in Scorpio makes the gates to the underworld easier to access helping our Persephone traverse the dark, along with Mars, the loosely tethered adolescent male, like a "rebel without a cause", and finally the North Node moving into Cancer. With very little effort, things can change on a dime, flip from down to being up, full to being empty and vice versa.
This reminds me of one of our adjustments with the Hexagrams but more on that another time. It is a six Metal Month of the Dog which is about authority, obstinacy, persistence, and conflicts, a Dog Month in a Dog Year! Dogs don't let go, just think of our President who is a Dog, power that will not release its privilege, that has passed its due date, male-domination that doesn't realize its fragility, or that it is time to abdicate. This all ties in with the Western astrology above. Don't you love how all these separate paths from different worlds flow together?
Everything is cyclical, seasonal, for instance look back 8 years to 2010 or even 16 years to 2002, you may find a similar transformative issue that has come to the forefront regarding relationships, sexuality or finance, or a culmination of that earlier cycle as Venus is in the same area of the sky now in the murky waters of Scorpio preparing the compost for the new beginnings of Spring 2019.
I recommend a good space-clearing with sage or tobacco and before that clearing some or a lot of clutter out of your purview. Dream-journaling is highly beneficial as you can access the subconscious with greater awareness in this space of the diaphanous veils between the worlds.
https://cinnabarb.com/wp-content/uploads/2018/10/Nigredo-die-22sol-niger22-das-Ur-Chaos-die-22prima-materia22-cc32af237a58aba34e7de2e6648f7419.jpg
474
564
Bernadette Macmillan
https://cinnabarb.com/wp-content/uploads/2015/06/logo2.png
Bernadette Macmillan
2018-10-25 00:58:18
2019-03-11 22:46:30
DOWN INTO THE NIGREDO